Touring a cave always feels like an adventure! Something about leaving the warm air and sunlight behind and knowing you're deep underground just gives it an other-worldly feel, and yet every cave seems to have its own personality. We like touring caves!
When we heard about Florida Caverns State Park, we knew we wanted to add that to our itinerary. In addition to cave tours, the park also had plenty of hiking trails and a campground. Sounded perfect.
Change of Plans
Thankfully we read the small print. Cave tours operate Thursday-Monday, meaning the tours and store are closed on Tuesdays and Wednesdays. Those happened to be the two days we wanted to spend there. Then we checked our dates at the campground and it was fully booked. Suddenly not quite as perfect as we had originally thought.
But we decided it was still something we wanted to do! So we made plans to stay a few days longer in Florida in order to tour the caves on a Thursday. And we made reservations at the Camel Lake Campground in the Apalachicola National Forest, about an hour away.
Camel Lake
At Camel Lake we had no electricity, no cell phone reception, and no internet. And we loved it anyway. There are sites there with electric hook ups, but none of those were available. The lake has a sand swimming beach that the kids loved, and a walking trail that goes around the lake. The solar panel kept our battery charged and in the absence of electronic distractions, we read books, took walks and enjoyed campfires. Once again we confirmed how much we prefer state and national parks and forests over RV park camping.
Florida Caverns
Timing is everything at Florida Caverns. We enjoyed a full tour of the cave, while friends of ours who were there just a few weeks after us got an abbreviated tour since many of the chambers we'd walked through were completely underwater. We were able to see many different kinds of cave formations, cave crayfish (which are completely white!) and a few tiny bats. Our guide shared stories of the history of the cave, including the work of the Civilian Conservation Corps that made the cave accessible to tourists. The 45 minute tour seemed to fly by and then we were out in the warm Florida sunshine again.
If you're planning to visit: Tours tend to sell out, so booking in advance is recommended. We didn't, but since the park is located on the other side of the time zone line, we were an hour earlier than we'd thought, and therefore early enough to book a tour. We hadn't noticed that the park was in the Central time zone even though, just an hour away, our campground was still on Eastern time.
Waiting for our tour to start wasn't hard at all! We explored a trail above the caverns that actually had pages from a children's book (Olivia, if you're curious) laminated and mounted at regular intervals along the trail. Had we known that in advance, we would have walked the loop in the opposite direction, but as it was the kids thought it was fun to read the story backward and try to guess what had happened on the page before it. We've visited a lot of parks and taken a lot of hikes and we've never seen a story hike like this one. We loved it and hope other parks will steal the idea!
They also have a nature center where we could see and sometimes touch native creatures and the things they left behind. There was lots to see, do, and learn and a ranger on duty to explain things and answer questions.
After our cave tour we walked one more trail, this time letting Emelie hold the map and be the navigator. She read the trail guide to us and explained the different things we saw along the way. It was her turn to be the teacher! We like when we can give the kids chances to take leadership and learn by doing. And we definitely prefer this method of teaching map skills over sitting at the table using workbooks!
Once again, we were struck by how rural much of Florida is, even the areas around Tallahassee. We weren't far from the capital but you would never have guessed it. It is rural, it is natural, and it is beautiful. Florida Caverns is definitely worth a stop, especially if you find yourself traveling along the I-10 and looking for things to do. You won't be disappointed!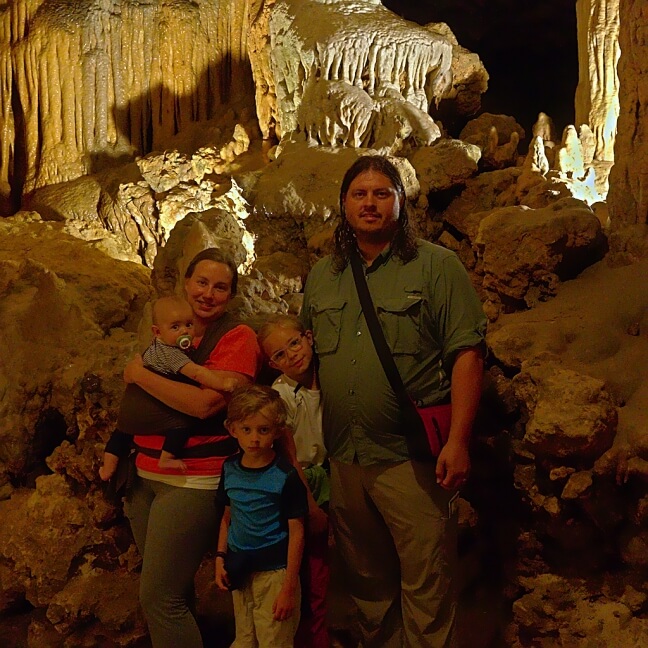 Posted in Campground Reviews, Explore and tagged Apalachicola National Forest, Camel Lake, Florida camping, Florida Caverns by Christine with no comments yet.