This week between Christmas and New Year's Day is a favorite of mine. Here in Sweden, there's even a word for this week: mellandagarna, the "in between days". Even before I had a word for them, I've loved these days. There's no school, many people are off from work, and there isn't much going on except for gatherings of family and friends that might not see each other very often. The hype and stress of the Christmas season is over, but the decorations and festive atmosphere remain. There is leftover food and treats, and there are new things to play with, read, or otherwise enjoy. The pace is slower, and I find time to rest, reset and reflect on the year that has been. There is much to love about these in between days.
But the risk for me is that I start to look forward more to the day after Christmas than Christmas itself. Sometimes in the lead up to Christmas, I catch myself wishing it was just over already. I've always loved Christmas, so why would I feel this way? Sometimes there's just too much pressure, and most of it comes from within myself. As soon as we had kids, I unconsciously started raising the bar, determined to make sure that Christmas was magical for them. With social media showing me what everyone else was doing, and the added complication of trying to blend two cultures and traditions, it's no wonder I spent the Advent season longing for December 26.
We've always kept Christmas pretty simple by most standards, but if I was still stressed and overwhelmed, then it wasn't simple enough. Rather than trying to sit down and decide what to cut this year, we focused instead on what felt important to keep and chose not to do anything else. This might not seem like a big difference, but keeping our perspective positive – what we would do – was much more fun than the opposite. I'm confident that every family would choose different priorities, but I'm equally confident that every family could benefit from a similar discussion. The main thing that we chose to keep in our Advent/Christmas season was peace and space for what's most important. We sang the words, "all is calm, all is bright" without a hint of irony.
Here's how we celebrated our simple Christmas this year…
Presents
Let's start with the big one. In our family, Santa only leaves presents in our stockings. Usually he fills the stockings with art supplies, some candy, and a new toothbrush (which is a great way of remembering to change toothbrushes once a year!) Under the tree is one present for each child from Mamma and Pappa. Just one. This year, a relative sent money and asked me to buy something for them to open rather than just putting the money in their accounts. So there were two presents each under the tree for them to open on Christmas.
A few days before Christmas we gathered with Staffan's family to celebrate Christmas together. The kids each got one present from their cousins, one from their aunt, and two from their grandparents. They were thrilled and couldn't believe how many presents they got. What they got was either useful (like clothes and sheets) or creative (like Lego and Play-doh) so Mamma and Pappa were pretty happy too.
But receiving isn't usually the stressful part (excluding things you don't have space for and toys that make annoying sounds.) The finding, shopping, wrapping extravaganza and the credit card bills that follow are what can steal the holiday joy. We avoided that this year by reducing the number of gifts we were planning to buy, deciding what to get before heading to the stores, and getting it all done early. We avoided crowds by shopping online and by heading to stores at less popular times. Less gifts meant less to wrap so that took very little time and supplies. We're not dreading our next credit card bill.
The part that might be surprising is that Staffan and I didn't give each other gifts this year. We've evolved in this over the years, since I can almost never think of something I want and Staffan always wants things that are too specific and expensive for anyone to buy them as gifts. Rather than buying things just to give something that will either be returned or collect dust, we decided to skip gifts to each other. We filled each other's stockings and left it at that. But I emphasize that we communicated clearly about this in advance and neither of us was hurt or disappointed.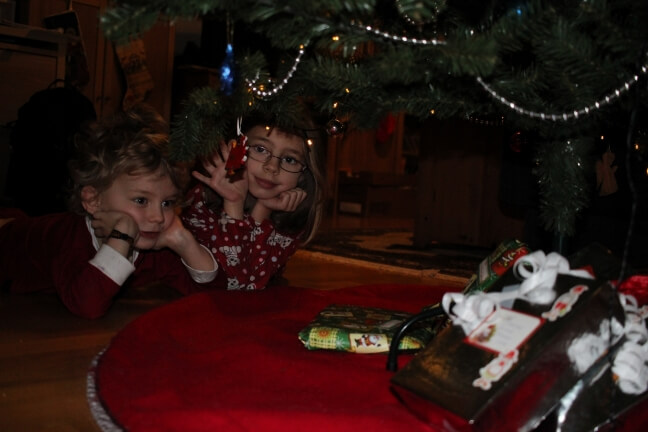 Cards
I love Christmas cards. This is a non-negotiable for me. We have family and friends spread out around the globe and I love having this fixed point of keeping in touch at least once a year. We spend a little more to order the personalized ones with family pictures on them, even in the age of Facebook and Instagram when many people see pictures of us and our kids regularly. Not everyone is active in social media, and having the picture in your hand and not just digitally is something special nowadays. We have all of the photo cards we receive hanging on our refrigerator year round and only take them down when we get the next year's card. To help keep the calm, we order them early (when there are also great discounts available) and I address them while watching a Christmas movie one evening while the kids are sleeping.
Baking
Baking with the kids is really fun and something we try to do regularly all year. We've also learned that the kids start to lose interest after a while, so planning a lot of baking is just setting us up for frustration. We plan it as a fun thing to do as a family, but once the kids start to lose interest we end up either forcing them to finish while their whines drown out the happy Christmas music, or we finish it ourselves while trying to sort out sibling squabbles with butter covered fingers. No one is happy when we aim for too much in the baking department.
What we kept this year was gingerbread cookies and our gingerbread house. We bought ready-made dough and skipped to the fun rolling out shapes and decorating part. Again, since we bake with them regularly, there was less pressure on this as a single event to teach them how to measure and mix and we could shorten the process. We enjoyed some other kinds of cookies that other bakers brought us, but in general just ate fewer cookies this year. No one really missed them and we're probably healthier for it.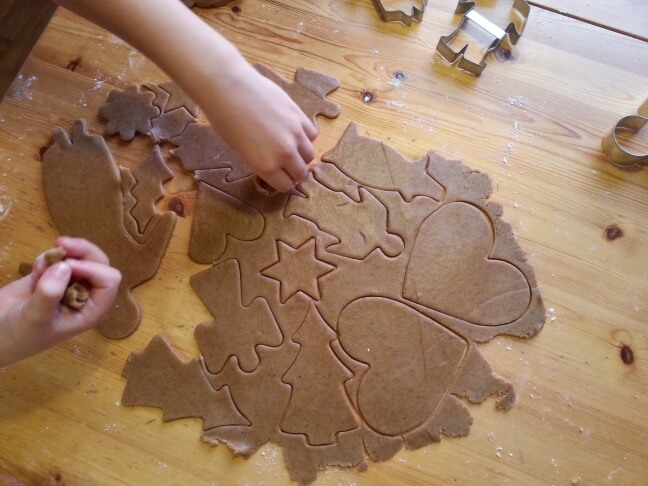 Decorations
I think I've mentioned in previous posts that we're not big decorators. This applies to Christmas too. In a country where it's traditional to completely transform your home on the first weekend in Advent, down to the Christmas curtains and linens, our apartment is unusually normal this time of year. I switched to Christmas towels in the bathroom and kitchen (at the same time as I would usually switch out those towels to wash them) and I rolled out a Christmas runner on the table. I wouldn't have bothered to buy these myself, probably, but they were gifts and they add a little Christmas color to these rooms. We put up our stars and candles in the windows, our contribution to the shining windows all around us that help brighten the desperately dark days of Sweden in December. And the kids cut and colored and crafted their own decorations on their own initiative and inspiration (nothing you'll be seeing on Pinterest anytime soon, but all theirs) and walked around taping them and hanging them anywhere we'd let them.
Our Christmas tree is artificial, which I resisted up until about 2 years ago, and which caused my family to threaten me with excommunication. I've always had live trees and still love live trees, but the practicality eventually outweighed the tradition. So we decorated our artificial tree, allowing the kids to put ornaments wherever they want and not changing it too much after. Most of the ornaments are on the bottom half, we lost a few glass ones and there are huge clumps of ornaments followed by bare spots. And we love it that way!
Food
Christmas Eve, the big celebration day in Sweden, was a busy day. Staffan was leading the service, of course, and asked me to fill in as a donkey in the nativity play (being a pastor's wife is so glamorous sometimes!) Then we went to a different church where the parish was hosting a Christmas celebration. It's open to anyone, but is typically attended by those who don't have family nearby to celebrate with, and those who are new to Sweden and want to learn Swedish Christmas traditions. So rather than eating a traditional "Christmas table" (full of foods that none of us really likes) we ate simple rice porridge and ham sandwiches, which is also traditional to the season.
We celebrated as a family on the 25th, since the 24th was so full, but once again skipped the work and expense of a large traditional meal that no one really enjoys. Breakfast was pancakes in fun shapes and lunch was small since Christmas candy didn't leave much room for regular food. For dinner, we made pizza dough in our bread maker and used our big cookie cutters to make individual pizzas in Christmas shapes. The kids made hearts and santas, while Mamma and Pappa used the leftover dough to make a shape we called "melted snowman". We ate the pizzas picnic-style on a blanket on the living room floor and watched the Polar Express.
Schedule
Here we didn't skimp too much, but to be honest, we didn't have to. Once we eliminated most of the shopping stress and reduced our expectations on all the "shoulds" and "ought-tos" there was time left to go to all the events and celebrate with people without feeling stressed about it. Remember that Staffan is a pastor, so his schedule isn't exactly calmer in December, but again, we were able to have fun and enjoy the extra things when we had the time and weren't just trying to squeeze it in.
And that really was it. I saw so many pictures in social media – stacks and stacks of presents, infants celebrating first Christmases with present piles they could easily get lost in, and kids ignoring toys and playing with bows and boxes, like all kids do. I read so many status updates from tired, over-extended parents about dragging themselves to the mall one more time, or staying up half the night wrapping gifts. And I know that what we are all trying to do is give our kids magical memories of Christmas. The thing is, I'm not sure their kids experienced any more Christmas magic than mine did, for all that striving and sacrificing. And ours spent the day with calm, rested parents.
Anybody else think that Christmas can get a little out of control? How do you reduce the Christmas stress? Which traditions are the most special and important to you? What would it take to let all the other ones go?
Happy New Year!

Posted in Simplify and tagged simple Christmas, simple holiday, simplify Christmas by Christine with no comments yet.