After walking in pioneer footsteps at the Guernsey wagon ruts, our next stop was in northeast Utah in search of slightly older footsteps. Flaming Gorge We exited the interstate and drove the beautiful Flaming Gorge Scenic Byway (US Highway 191). Sections of this road were steeper than we are accustomed to towing, but it was manageable with smart driving techniques. We were heading into the Rockies and each curve in the road brought another new Continue Reading →

Posted in Explore, Learn and tagged dilophosaurus, Dinosaur Trackway, Dinosaurland, Flaming Gorge, fossils, Red Fleet State Park, roadschooling, Utah by Christine with 2 comments.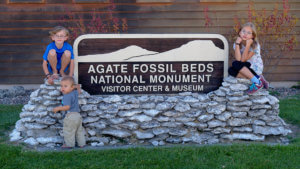 Before we left Nebraska, while staying at Scotts Bluff, we took a day trip up to Agate Fossil Beds National Monument. Parallel to our studies of the Oregon Trail, the kids were also learning about fossils as we anticipated traveling through some of the most fossil-rich areas of the country. Just as the Oregon Trail and the adventures of the pioneers easily captures a child's imagination, it is equally easy to get kids interested in Continue Reading →

Posted in Explore, Learn, National Parks and tagged Agate Fossil Beds, daeomonelix, fossils, junior rangers, National Monument, Nebraska, NPS by Christine with 2 comments.