I had never heard of White Sands National Monument before we started planning our trip through New Mexico. Maybe it's because I'm from the East Coast and I had never heard anyone talking about going there, but this gem of a park was not on our radar until we started looking for a stop-over to break up the trip between Albuquerque and El Paso, TX. Our visit to the park began at the visitor's center Continue Reading →

Posted in Campground Reviews, National Parks, USA Roadtrip 2012 and tagged Alamogordo, Alamogordo campground, family travel NM, national park, New Mexico, travel with toddlers, White Sands, White Sands National Monument by Christine with no comments yet.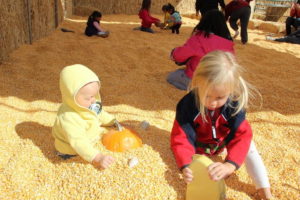 Because of our visit to the Petrified Forest in Arizona, we didn't reach Albuquerque, New Mexico until late evening. We were well past our goal of being off the road every day by 4pm and even needed to pick up dinner along the road. Our kids are great in the car, but everyone has limits, and none of us are at our best when we're tired and hungry. So we may have been a bit Continue Reading →

Posted in People along the way, The Camper, USA Roadtrip 2012 and tagged Albuqueraque fall festival, Albuquerque, Albuquerque children's festival, corn pit, driveway camping, New Mexico by Christine with 1 comment.