After a summer of exploring our local area, discovering new places that we never knew were nearby, and writing all about our reasons for staying local and what we did, we hopped on a plane and spent four days in London.
I know. We said we wouldn't. And we weren't planning to. We really weren't. But then we did.
As I mentioned in an earlier post, the weather in Sweden this summer was particularly terrible. This combined with vacationing locally made me feel like I hadn't really had a summer. We endure extremely cold and dark winters here, and the idea of facing another long winter without having had a "real" summer was giving me feelings approaching depression and anxiety. Since the weather wasn't something we could do anything about, we started longing to go somewhere before the fall and winter weather hit.
Budget was still an issue, but we were given some money we weren't expecting and I started wondering where we could go and what we could do within that sum. It turned out to be enough for a long family weekend in London.
So I'll share how we squeezed a London getaway weekend into our budget. Since transportation and lodging are the biggest expenses of most vacation travel, I'll start with that. I'll follow up with another post about food and entertainment, and how we had an amazing experience that our kids are still talking about for a lot less than you might expect.
Transportation
Ryan Air
London has a well-deserved reputation as one of the most expensive cities in the world. So it might not seem like a logical choice for a budget getaway. Why then did we choose London? Ryan Air.
Ryan Air is the British no-frills, budget airline. They offer a direct flight between our hometown and London Stansted airport. Any other destination would have required connecting through Stockholm, which increases travel time and cost. The base fare we paid for a round-trip direct flight was 179 SEK per person (about $22/£14). Anything you add onto the fare, included checking bags, is an additional cost. We chose to fly with only a carry-on bag each and did not add anything additional. Total cost for airfare (including taxes, etc): 1132 SEK/$139/£91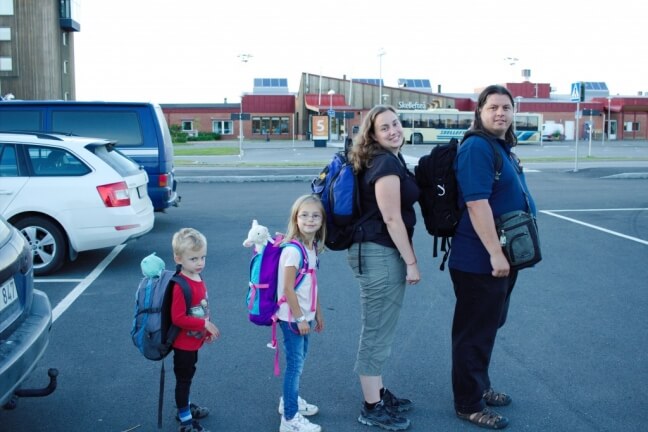 At the airport – this is all our luggage

Ready to fly off into the sunset!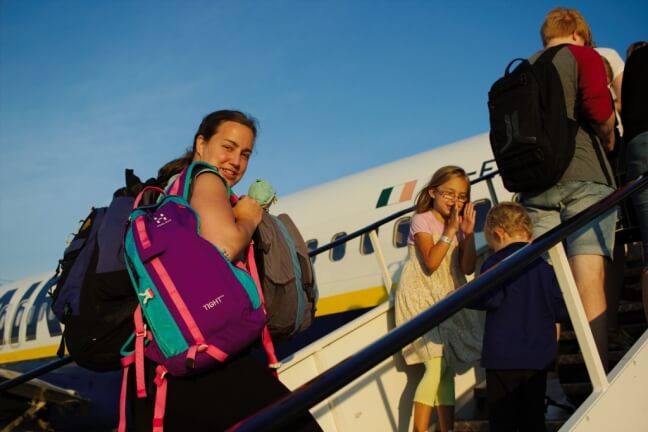 By the return flight, carrying their own bags was less exciting…
Stansted Express
There aren't many transportation options from Stansted to London city center. Most are difficult to find online ahead of time and take a lot of time to get there. With such a short trip, we weren't looking to spend a lot of time getting to and from the airport. The Stansted Express train is the only transportation option we considered.
The Stansted Express can be very expensive and I wouldn't recommend waiting until you're at the airport to buy your tickets. The best way to save on the Stansted Express is by planning ahead. If you book tickets a month in advance, like we did, you get the best rate. Even a week in advance is a significant savings over the standard ticket price. The tickets are booked for a specific date, but not a specific time, so you don't have to worry about flight delays or rushing to meet your train. The trains leave every 15 min and take about 45 min to reach London Liverpool St. Station.
Total round-trip cost for 2 adults and 1 child (children under 5 ride free): £40/$61/540SEK
www.stanstedexpress.com
Oyster cards
Visitor Oyster cards are the way to get around on London public transit. There are websites that compare and help tourists decide between day/week passes and Oyster cards, but honestly I have trouble imagining circumstances where the Oyster card isn't the best option. Using an Oyster card, you pay per trip up to a certain price cap per day, which varies depending on how many zones you travel across. We planned to stay within zone 1-2 which made our daily price cap £6.40.
There is a cost for the card itself, so you save even more if you can borrow a card from someone else (our cards have already traveled a few more tours to London since we got back), but they never expire and you can add additional credit online or in person so we chose to purchase our own cards. This was almost certainly not our last trip to London!
Total cost for 2 Oyster cards (kids ride free with paying adult) with £30 of travel credit each:  1000SEK/$123/£80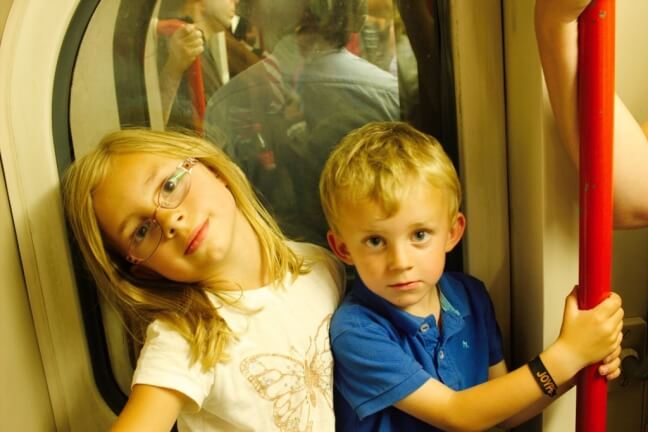 Riding the underground was always fun, even when it was really crowded
It's also a good place to rest after walking all around London collecting leaves
Hotels
Holiday Inn Express Stansted
Our flight to London Stansted arrived at nearly midnight local time (which is an hour earlier than Swedish time), so once we landed and went through passport control and customs, it was really late. Our flight back home left just after 7:00 in the morning, so allowing time for passport control and security before boarding, let's just say it was an early morning. The times of the flight were less than ideal, especially traveling with kids. We decided to make the best of the situation by staying in a hotel close to the airport on the first and last nights. This worked out really well for us.
Stansted isn't a huge area, but there are several hotels within a few kilometers of the airport. We chose the Holiday Inn Express because it was the cheapest option that offered a family room, breakfast, and a shuttle to and from the airport. The shuttle was an additional cost (£3 per adult) but that was comparable to all the others. It also eased our minds a bit to stay with a well-known chain. Two o'clock in the morning is a bad time for surprises.
The room was small but comfortable. The kids shared a sofa bed that was made up when we arrived. The breakfast was buffet-style and offered typical English breakfast items as well as a more continental breakfast including toast, cheese, cereal, and yogurt. This hotel was nothing special, but it suited our needs perfectly. All we really needed was a place to sleep and eat some breakfast, so we were quite satisfied.
Total cost for 2 nights' stay: 2215SEK/$273/£179  Plus airport shuttle: £24 ($36/298 SEK)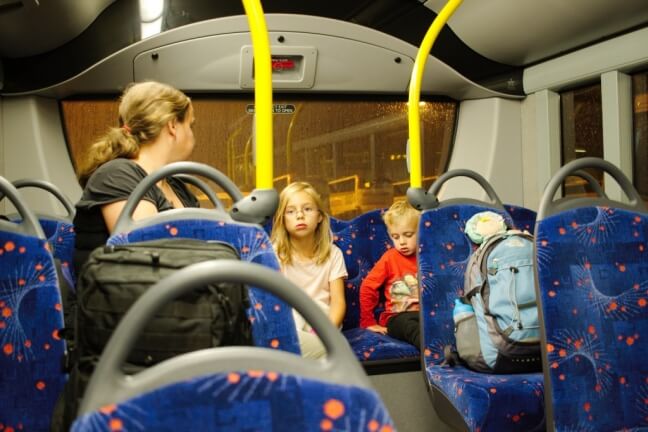 Riding the airport shuttle in the middle of the night

Finally got a little sleep at the HI Express, now ready to head to the city!
Ravna Gora
If you ask our kids, we stayed in a very fancy hotel in London. If you read some reviews on Trip Advisor this might be the worst hotel ever. It's all a matter of your perspective and your expectations. If you're a traveler who considers the hotel atmosphere a vital part of your travel experience, this is probably not a good choice. That's not us. We want a reasonable place to sleep for the night and a safe place to leave our things while we're out exploring so we don't have to carry everything with us. The family room was spacious for an inexpensive London hotel and we had our own bathroom. The mattress on the sofa bed was very thin, and would probably have been uncomfortable for bigger kids or adults. Our kids didn't seem to notice. A simple, but adequate, breakfast is included. We didn't find the staff particularly friendly or helpful, and the Wi-Fi didn't reach all the way up to our room, but it was free.

Bedtime stories on the sofa bed
You know what they say: Location, location, location. Ravna Gora is in the beautiful neighborhood of Notting Hill and had easy access to the Underground, stores and restaurants. The central location meant we could spend more time seeing and doing things and less time riding trains. It also cut our transportation budget to stay in zone 1-2. If I had to describe this hotel in one word it would be… adequate.
Total cost for 2 nights: 2795 SEK/$344/£225
Total expenses for travel and lodging: 7980SEK/$976/£639
Anyone have any budget hotel tips in London for the next time we're there? How do you save money on lodging and transportation when you travel?

Posted in Explore and tagged holiday inn express stansted, London, London budget travel, London family hotel, London family travel, London underground, oyster card, ravna gora hotel, ryan air, stansted airport, stansted express by Christine with no comments yet.